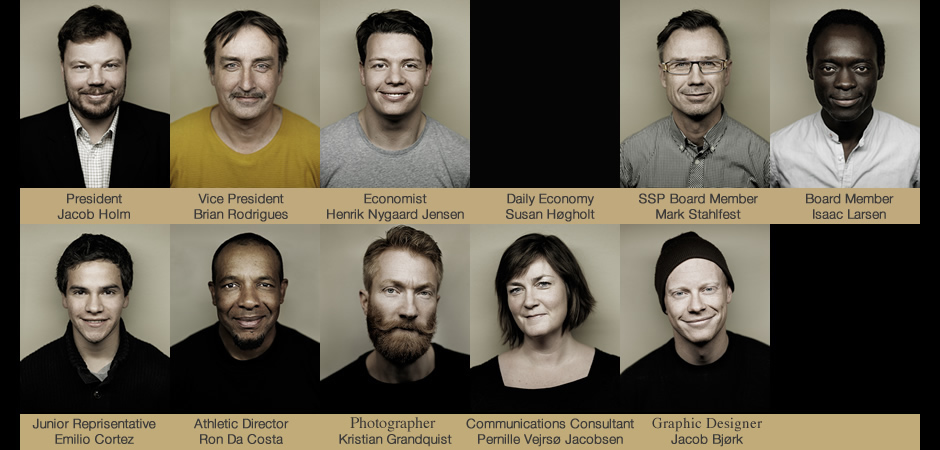 The Board
It is not a coincidence that our board members are who they are, and do what they do. Teams choose board members depending on who is available. We waited and handpicked our board. These are individuals that in some way reflect our vision.
The President: Played for Ron Da Costa as a young man, he achieved 4 Danish National championships, and enjoyed a brief semi professional experience, today he is a lawyer for a major Danish firm.
Vice President: Worked in European Union Youth programs culture and sports. (used Ron as speaker)
Economist: Played for Ron Da Costa as a young man, he achieved 5 Danish National championships, and was one of the first Danish starters for his High School in the US and has gained more than 3 years of investment banking experience with Goldman Sachs in London.
Treasurer: Worked with Ron Da Costa's famous youth program "Do The Right Thing", Brøndby mid 90's.
Coordinator: Head of SSP Vallensbæk in charge of following up on school issues with Ron Da Costa.
Coordinator: Played for Ron Da Costa as a young man, achieved 2 Danish National championships, has worked for the Danish Ministry of Foreign Affairs, he has a MA in African Studies, he coordinates between the CFA and the campaign group.
Coordinator: Plays for Ron Da Costa and represents the young men on the team, assists board members.
Athletic Director (AD): Behavioral Analyst working with Kriminal Forsorgen in the Danish prison, in charge of implementation of the model, day to day operations, staff and their training. Chosen into the Danish American Football Hall of Fame for his contribution to football coaching in Denmark.
The Campaign group
We have a media campaign group of professional businesses that are in charge of our CFA youth campaign, which includes safe sex, stop drinking and driving, stop smoking/drugs, use seatbelts, stop bullying, and stop violence.